GEOPARQUE
A SINGULAR BEAUTY
Prior to its formation and for approximately 5 million years, most of the Geopark's territory was made up of an extensive river system that had no outlet to the sea and that drained its waters into a large lake. This endorheic stage (landlocked) generated one of the best sediment records in continental Quaternary Europe.
Surrounded by some of the highest mountains on the peninsula and the current drainage network, it forms an arid and very rugged landscape of singular beauty in which the gullies / badlands stand out, which include canyons of up to 250 m in height, and the fluvial terraces of the main rivers, which form alluvial plains known in the region as meadows.
The location and geographical characteristics give it a peculiar climate, with short, hot summers and cold winters. This climate allows us to enjoy some magnificent pictures. Places where almost desert and arid areas mix with landscapes of great forest beauty and abundant water. Therefore, we can highlight its dry farming, vegetables from its plain and mountain cattle.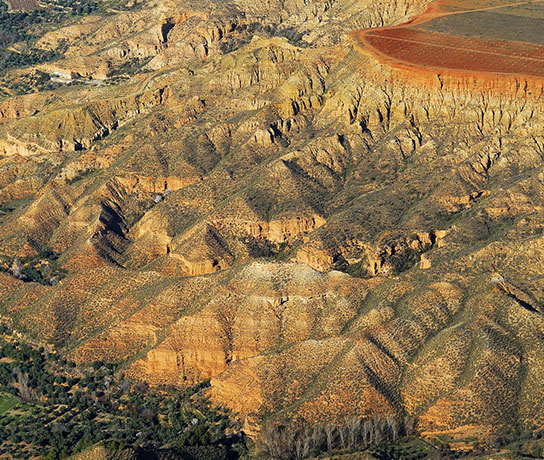 16 de November de 2022
Different trials in their fields make clear the possibility of the highland area becoming a "high-altitude hotbed" for the...
WHERE TO TASTE THEM
---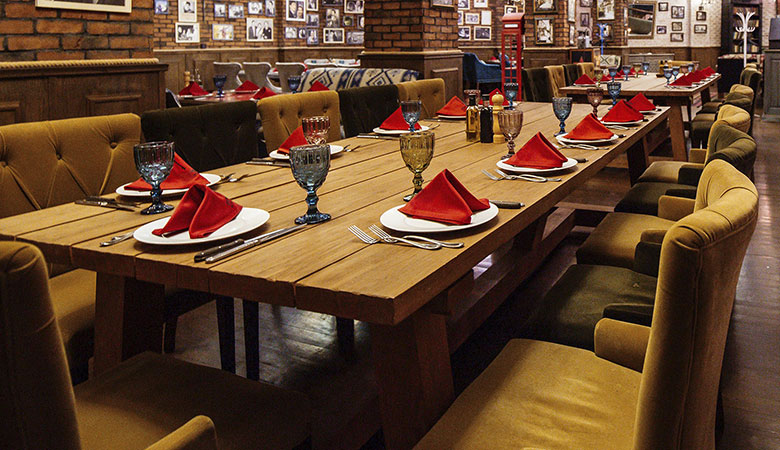 ---
Geoparque Restaurants
Rte Jardines Las Conchas, Baza
Carr. de Caniles, 0, Km 6 800, 958 70 41 44
Restaurante Brasería Cueva La Tinaja, Guadix
Ctra. Baza, 77, 958 66 28 77
La Parra, Baza
Carr. de Caniles, 41, 958 70 00 12
Mesón Granadul I, Guadix
Km.1,5, A-92, 958 66 61 28
Restaurante Venta Cañadas, Guadix
A-92, Km. 205, 611 12 42 89
Restaurante Río Verde, Guadix
Av. Buenos Aires, 1, 648 94 23 53
Rte La curva, Guadix
C. Corredera, 12, 958 70 00 02
Rte Los Hermanos, Baza
www.hostalloshermanos.com/baza
Ctra. Murcia, km 176, 958 70 18 80
Restaurante Boabdil, Guadix
C. Manuel de Falla, 3, 958 66 48 83
Bodega Calatrava, Guadix
C. Tribuna, 12, 666 40 32 26
Restaurante El Buho Htl Yit Abentofail, Guadix
www.hotelabentofail.com/taberna-restaurante-el-buho.html
C. Abentofail, 8, 958 66 92 81
Catering La Nueva Era, Guadix
www.asociacionsanjose.org/tag/catering-nueva-era
18500, C. José Luis de Los Reyes Arenas, 3,
958 87 14 98
Hotel Mulhacén, Guadix
Av. Buenos Aires, 41, 958 66 07 50
El Refugio, Guadix
https://cdn.website.dish.co/media/d0/03/5749186/Menu.pdf
Junto correos, Plaza de la Constitución,
689 94 01 26
Rte Collados De La Sagra, Puebla De Don Fabrique
www.grupocollados.com/collados-la-sagra
Crt.de la Sagra s/n, GR-9100, 958 34 44 71
Rte Kalisska, Baza
C. Miguel Hernandez, 4, 958 10 62 25
WHERE TO BUY THEM
---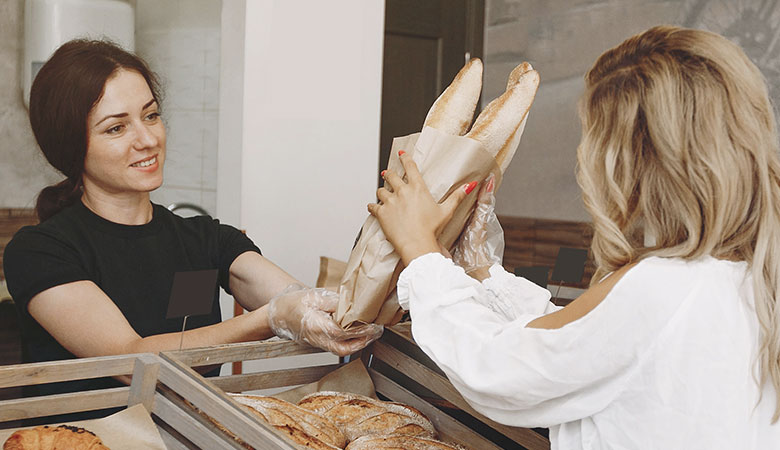 ---
Geoparque Shops
La Abuela de Granada, Huéscar
Calle Miguel Hernandez 13 , 18830 Huescar Granada 610 67 09 07
WHERE TO STAY
---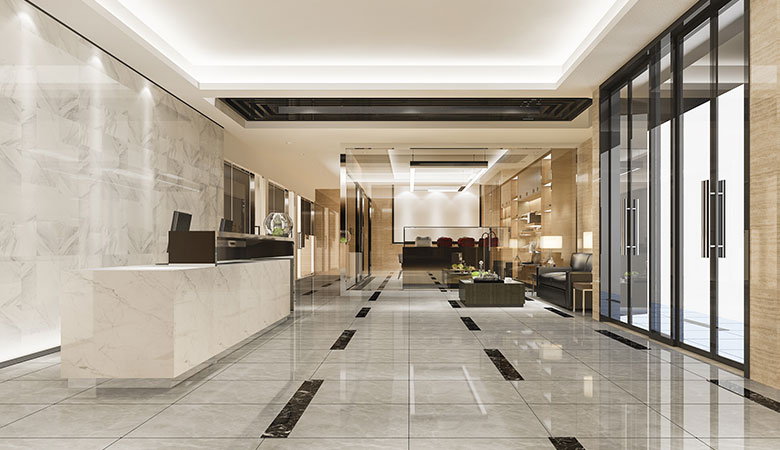 ---
Geoparque Hotels
Cuevas Al Jatib
Baza, Curcal s/n (Camino de Oria)
958342248
Apartamentos Alhanda
Benamaurel, C/ Mayor, 8
609013208
Casas Cuevas Almagruz
Purullena, A-92 Km 286
https://www.cuevasalmagruz.com/
658923971
Camping Casa Bella Teepees
Zújar, Avd. de los Baños
https://es.casabellateepees.com/
958063905
Alojamiento rural Colonia Districthive
Gorafe
919447276
Cuevas Cuevas Andalucia
Baza, Camino de Oria s/n
https://www.cuevasandalucia.es/es/
958063113
Cuevas Cuevas OTTO
Baza, Complejo cuevas OTTO
647205388
Apartamentos Rurales El Molino de Morillas
Galera, A330 Huescar-Cullar, Km 21-22
https://www.molinodemorillas.es/
661290891
Hotel **** Hospedería del Zenete
La Calahorra, Carretera Ragua 1
https://www.hospederiadelzenete.com/
958677192
Hotel Balneario Hotel Balneario de Zújar
Zújar
https://www.balneariodezujar.es/
958191000
Hotel boutique **& Apartamentos Molino Candeal
Caniles Paraje la Vega A-337
958710001
Hotel Boutique **** Molino de En medio
Huéneja, Paraje Castañar, polig. 384, parcela 25
https://www.hotelmolinodeenmedio.com/
958345625
Vivienda Turística Palacete Magistral Domínguez
Guadix, C/ de Concepcion 16
629734574
Hotel **** Palacio de Oñate
Guadix Mira de Amezcua 3
958660500
Hotel Rural **** Señorío de Rías
Diezma
Hotel **** YIT Abentofail
Guadix, Abentofail, 8
https://www.hotelabentofail.com/
958669281
La Casa Del Desierto GORAFE
https://thehouseinthedesert.com/
654300419
EXPERIENCES
---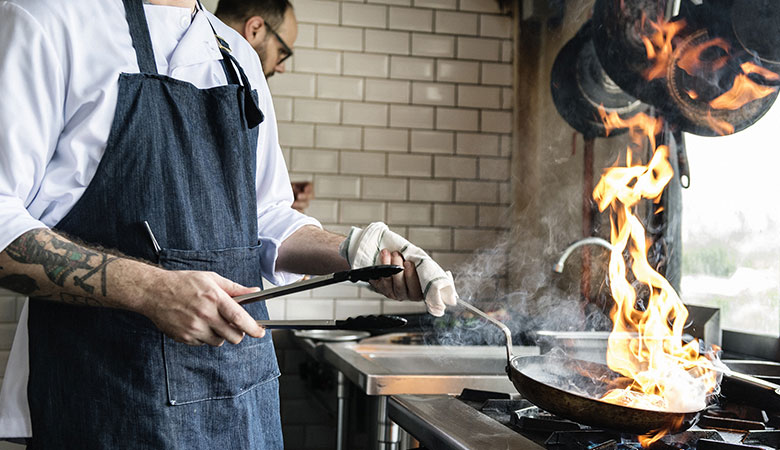 ---
Geoparque Experiences
Visita Bodega Mendez Moya, Dólar
Carretera El Pozico , km 9,5,
18512 Dólar, Granada
Geopark Granada
- 4x4 por el Geoparque
18860 Baza, Granada
Tròpolis, Alcudia de Guadix
Avda. Jose Fuentes, S/N, 18511 Alcudia
de Guadix, Granada
Centro Ecuestre Almaraes, Benalúa
Ctra. Fonelas, Km. 1. Cno. Almaraes s/n, 18510 Benalúa, Granada